Prince of Persia se ha consolidado como uno de las mejores franquicias de esta generación, y demuestra la inmensa calidad de Ubi Soft refrendada en títulos como Beyond Good and Evil y Splinter Cell. Después del mediocre Prince of Persia 3D, Ubi supo revitalizar al príncipe con el primer Las Arenas del Tiempo, un muy competente juego de acción y habilidad que contaba con un buen control y diseño. Fue un éxito inesperado, obteniendo buenas cifras de ventas gracias a su carácter multiplataforma.
Qué es: el final de la revivida saga de Prince of Persia
Más: jugabilidad, historia, estética, sonido, el final, Dios mío, ¡el final!
Menos: el Engine esta algo viejito ya, los combates con los bosses pueden ser algo monótonos y frustrantes, cámara y controles horripilantemente consoleros.
Requerimientos Minimos:
Sistema: Pentium III de 1000 MHz o equivalente
RAM: 256 MB
Espacio en disco: 1000 MB
Otros: placa de sonido compatible con DirectX 8.0
Requerimientos recomendados:
Sistema: Pentium 4 de 1.5 GHz o equivalente
RAM: 256 MB
Espacio en disco: 1600 MB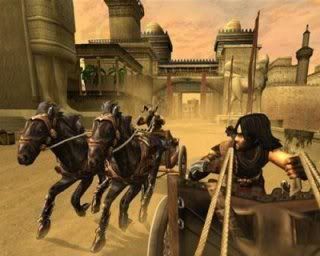 Parte 1
Parte 2
Parte 3